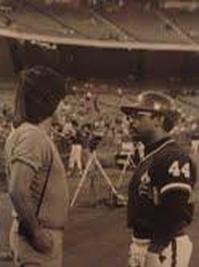 The author lives by himself, save for the voices of those that reside in The Bogus Buzz.
He has one daughter, Delaney, who graces the vaunted halls of the University of Montana. He married his psychologist wife Bridget for free counseling, and despite divorce, they lived under the same roof in separate bedrooms while raising their only child.Little did the author know that this incredible human being would be waiting for him at the end of the careless trek of his youth.Before figuring out he could write, Flick got booted out of the army after a brawl in Germany, plastered pools and was a bouncer.
He eventually became a sportswriter in California, Arizona and Louisiana for 15 years. He started by sliding a couple free lance articles under a weekly paper's door. The Yucaipa Calimesa News Mirror. From there he began by stringing high school games for the San Bernardino Sun Telegram. His next assignment was
the beat writer for the San Bernardino Spirit, a Class A Cal. League team of the Seattle Mariners.
Flick worked his way up by covering occasional contests of the Anaheim Angels, Los Angeles Dodgers, Lakers and Kings games along with a few gridiron clashes when LA still had a couple pro football teams that went by the name of the Rams and the Raiders. Perhaps he was meant to be a sportswriter as his father named him Jon after Jon Arnett, a hotshot running back that lined up in the Rams backfield when they had their training camp in his hometown of Redlands.In 1992 he took a step backwards to go forward and boarded a stagecoach for Bullhead City, AZ to take a job as a sports editor. By 1997 he was elected by his peers as President of Arizona Associated Sports Editors.Then from there he had pit stops as a sportswriter for the Prescott Courier and the Casa Grande Dispatch. His last job covering sports took place for the Hammond Daily Star, just a 50-minute jaunt from Baton Rouge, Louisiana where while covering a Tigers game he stumbled into a tailgate party and fell in love with LSU and the SEC.In part because few read a paper anymore and he was no longer interviewing athletes he looked up to as a young man he turned to moving metal and selling cars while he reworked this compilation he once solicited as a shorty story compilation.
---